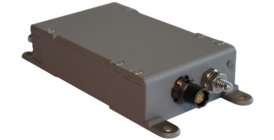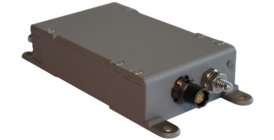 The AITE-401A can house one Axon user module remotely from the Axon chassis, thereby reducing heat generated in the chassis.
Key features
Houses single ADAU module
Modules can be located up to 10 m from an Axon chassis
Volume of less than 8 cubic inches
Powered via an interface to ADAU chassis
Rugged aluminum housing
LED power-on indicator
Applications
Data acquisition in remote locations
Data acquisition in environmentally harsh locations
AITE-401A Remote Housing for ADAU Module (Axonite)
The Axonite (AITE-401A) can house one ADAU user module. It allows Axon user modules to be housed remotely from the ADAU chassis, thereby reducing heat generated in the chassis. Modules can be located closer to sensors, resulting in a shorter connection between module and sensor, which can improve the signal-to-noise ratio and reduce system wiring.
ADAU user modules placed in the AITE-401A physically connect to the ADAU chassis via the AEXT-401A. The AEXT-401A provides power and data interfaces to the AITE-401A.
Logically, the AITE-401A connects to an ADAU chassis as if it was physically located in the chassis. Any ADAU user module can be housed in an AITE-401A. The AITE-401A and AEXT-401A draw up to 1.5W from the chassis power supply.
Aerospace Instrumentation Brochure
Modern aerospace instrumentation systems can be highly complex, and it can be difficult to know how to meet program needs. It's not unusual for requirements to change during a campaign and cause significant delays, and data must be captured reliably no matter what – otherwise expensive additional flights will be needed or months of program data could be lost. Read our brochure to learn how you can reduce your risk with commercial off-the-shelf (COTS) solutions. 
Read the Brochure
Axon ADAU Data Acquisition Unit (DAU) Product Family Brochure
For airborne applications where reliability and size, weight, and power (SWaP) are critical, the Curtiss-Wright Axon ADAU family of data acquisition units (DAU) are ready to take flight. Designed leveraging our decades of experience as a trusted, proven leader, ADAUs are future-proof, SWaP-optimized, and available in a variety of flexible configurations to meet your exact program requirements.
Read the Brochure