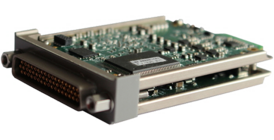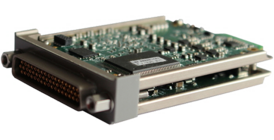 The ABIM-553A is a MIL-STD-1553 bus monitor, which can monitor up to four dual redundant busses.
Key Features
Monitors up to four dual redundant MIL-STD-1553 busses using Direct or Transformer coupled operation
Coherently parses traffic and tags for up to 4,095 parser ID; parser ID based on 16-bit commands; RT-RT messages treated as one parser ID
Aperiodic transmission of packetized MIL-STD-1553 messages including tags as DARv3 or IRIG-106 Chapter 10 payload per channel
Optional recording of messages with time-out status reply
Applications
MIL-STD-1553 traffic monitoring and recording
ABIM-553A MIL-STD-1553 Parser/Packetizer - 2/4ch Dual Redundant
The ABIM-553A is a MIL-STD-1553 bus monitor, which can monitor up to four dual redundant busses. It combines the capabilities of a coherent message parser, with the flexibility of a packetizer. It also provides message counting and extensive error detection functions, on a single module. The ABIM-553A's parser, triple buffers up to 4,095 complete messages and their associated tags in buffers up to 43 words wide. The INFO tag associated with each message has a stale bit (message read before), a skipped bit (buffer overwritten), and an empty bit (no message received since power-on). These tags can be included as discrete parameters in Ethernet or PCM transmissions.
All messages are captured and packetized into an Ethernet frame. To ensure efficient use of bandwidth, frames are only generated once a threshold amount of data has been captured. Additionally, a programmable timeout ensures that smaller frames are generated even during periods of low activity on the bus. When there is no traffic, no packets are generated.
Optionally, the message stream can be filtered such that only certain messages are captured and packetized. All messages are protocol tracked by the ABIM-553A. It handles all mode codes (including those that are user-defined).
The ABIM-553A is offered in two variants:
ABIM-553A-2: 2 channel dual redundant bus monitor/packetizer
ABIM-553A-4: 4 channel dual redundant bus monitor/packetizer
Aerospace Instrumentation Brochure
Modern aerospace instrumentation systems can be highly complex, and it can be difficult to know how to meet program needs. It's not unusual for requirements to change during a campaign and cause significant delays, and data must be captured reliably no matter what – otherwise expensive additional flights will be needed or months of program data could be lost. Read our brochure to learn how you can reduce your risk with commercial off-the-shelf (COTS) solutions. 
Read the Brochure
Axon ADAU Data Acquisition Unit (DAU) Product Family Brochure
For airborne applications where reliability and size, weight, and power (SWaP) are critical, the Curtiss-Wright Axon ADAU family of data acquisition units (DAU) are ready to take flight. Designed leveraging our decades of experience as a trusted, proven leader, ADAUs are future-proof, SWaP-optimized, and available in a variety of flexible configurations to meet your exact program requirements.
Read the Brochure