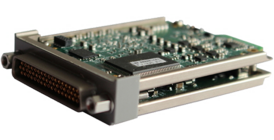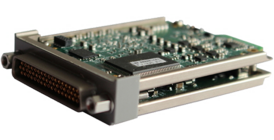 The APCM-404A is used to encode data in an IRIG-106 Chapter 4 (Ch.4) PCM stream.
Key Features
IRIG-106 Chapter 4 PCM
Dual RS-422 outputs up to 40 Mbps; 10 PCM codes; separate PCM codes per output
NRZL TTL output up to 16 Mbps
PMF output up to 8 Mbps
PCM encoding of any system parameter without the need for separate Ethernet bus monitor
Applications
RF transmission of PCM IRIG-106 Ch.4 streams
APCM-404A-1 IRIG-106 PCM Encoder (PMF Output)
The APCM-404A is used to encode data in an IRIG-106 Chapter 4 (Ch.4) PCM stream.
Parameters from any ADAU module in the chassis can be placed in the Ch.4 PCM stream. Parameters from other system chassis or Ethernet sources can also be placed in the Ch.4 PCM stream.
Ethernet frames are input to the ADAU chassis via the controller and passed to the APCM-404A across the backplane.
Multiple APCM-404A modules can be included in an ADAU system and parameters can be sent to some or all encoders. The APCM-404A has differential-ended RS-422 outputs for data and clock along with buffered TTL outputs for NRZ-L, DATA, DCLK, word, minor-frame and major-frame pulses.
The APCM-404A also has a programmable premodulation filtered analog output, which is suitable for use with a linear FM transmitter for telemetry. The cut-off frequency and amplitude can be changed to suit the bit-rate and transmitters deviation sensitivity.
All physical outputs transmit the same payload data using independent line encoding (PCM codes) configurations.
Aerospace Instrumentation Brochure
Modern aerospace instrumentation systems can be highly complex, and it can be difficult to know how to meet program needs. It's not unusual for requirements to change during a campaign and cause significant delays, and data must be captured reliably no matter what – otherwise expensive additional flights will be needed or months of program data could be lost. Read our brochure to learn how you can reduce your risk with commercial off-the-shelf (COTS) solutions. 
Read the Brochure
Axon ADAU Data Acquisition Unit (DAU) Product Family Brochure
For airborne applications where reliability and size, weight, and power (SWaP) are critical, the Curtiss-Wright Axon ADAU family of data acquisition units (DAU) are ready to take flight. Designed leveraging our decades of experience as a trusted, proven leader, ADAUs are future-proof, SWaP-optimized, and available in a variety of flexible configurations to meet your exact program requirements.
Read the Brochure