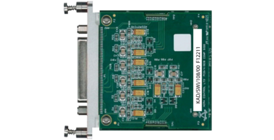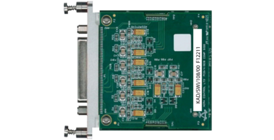 KAD/SWI/108 is an Ethernet switch designed for operating in harsh environments.
Features
Four 10/100Mps Ethernet ports over copper wiring
Configurable Xbar static forwarding table and user-selectable filter pass/reject selection criteria
IEEE 1588-2004 Precision Time Protocol version 1 (PTPv1) transparency
Live at power-on (configured static internal routing; no MAC address dynamic learning time delay)
Applications
Airborne interconnection for data acquisition units, network data recorders, network tap, network mirroring and redundancy, and onboard data processing stations in an Ethernet environment
KAD/SWI/108 Ethernet Switch (Xbar)
The KAD/SWI/108 is an Ethernet switch designed for operating in harsh environments.
The KAD/SWI/108 has a store-and-forward Xbar switching fabric that is configured via a static forwarding table to define how incoming Ethernet frames received on a given port are forwarded to the output of one or more egress ports.
The output of each port has filtering capabilities allowing for selective forwarding of Ethernet frames to the connected end node. The KAD/SWI/108 can filter traffic using 8 x 16-bit frame fields such as MAC addresses, IP addresses, IP length, protocol type (UDP/TCP), UDP or TCP port numbers, with optional masking. Filtering options include generic user-configurable field selection, IENA, and iNET-X. Moreover, the filter can be configured for pass or reject selection criteria.
The KAD/SWI/108 does not retransmit Ethernet frames that are received with Frame Check Sequence errors.
Backplane registers provide visibility of network activity including packets received and transmitted per port as well as packets dropped due to buffer overflows.
Aerospace Instrumentation Brochure
Modern aerospace instrumentation systems can be highly complex, and it can be difficult to know how to meet program needs. It's not unusual for requirements to change during a campaign and cause significant delays, and data must be captured reliably no matter what – otherwise expensive additional flights will be needed or months of program data could be lost. Read our brochure to learn how you can reduce your risk with commercial off-the-shelf (COTS) solutions. 
Learn More