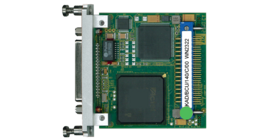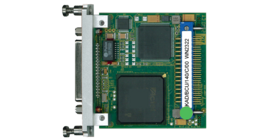 The KAD/BCU/140 is a full-duplex Ethernet Acra KAM-500 backplane controller, programmer, and IPv4 packet generator with a link speed of 100BASE-TX.
 
Features
Bi-directional, full-duplex Ethernet connection with auto-sensing
Mirrored Ethernet output supporting redundant IENA and iNET-X transmission
IENA and iNET-X compatible packetization structures
Supports aperiodic transmission
Synchronization with a network time source using PTPv1 or PTPv2 or acts as PTPv1 Grandmaster
Programming and verification of Acra KAM-500 chassis using TFTP
Applications
Ethernet based data acquisition systems
KAD/BCU/140 Ethernet Backplane Controller
The KAD/BCU/140 is a full-duplex, Ethernet, Acra KAM-500 backplane controller packet programmer and an IPv4 data packets transmitter (via a 100BaseTX link interface).
The Acra KAM-500 backplane controller supports chassis programming via Ethernet using Trivial File Transfer Protocol (TFTP). Synchronization with an external PTPv1 Grandmaster is achieved using IEEE Std.1588-2004 (PTPv1) or IEEE Std. 1588-2008 (PTPv2).
Upon receipt of a programming packet, the module immediately exits acquisition mode and switches to program/verify mode.
In acquisition mode, some or all acquired data is transferred from the backplane to the onboard CVT. Onboard, it is packetized into either an IENA or an iNET-X application layer packet. Assembled packets are transmitted simultaneously on both Ethernet outputs. For asynchronous bus data, the KAD/BCU/140 supports aperiodic transmission for efficient bandwidth use, whereby a packet is not generated if no fresh data has been acquired from a packetizer user module.
Aerospace Instrumentation Brochure
Modern aerospace instrumentation systems can be highly complex, and it can be difficult to know how to meet program needs. It's not unusual for requirements to change during a campaign and cause significant delays, and data must be captured reliably no matter what – otherwise expensive additional flights will be needed or months of program data could be lost. Read our brochure to learn how you can reduce your risk with commercial off-the-shelf (COTS) solutions. 
Learn More