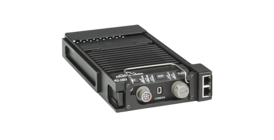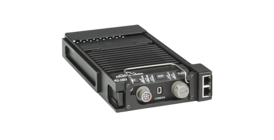 The PacStar® 411 and 412 HAIPE Sleds adapt ViaSat® HAIPE IP network encryption (INE) devices to integrate into PacStar 400-Series Smart Chassis-based solutions.
These combinations create complete network packages that include HAIPE encryption for secret and top-secret network access while taking advantage of the PacStar 400-Series modularity.
Physical adaptation of the INE into the PacStar 400-Series chassis

2x 10/100 copper RJ-45 Ethernet interfaces, exposed to the front of the sled

DC Power pass-through via the PacStar 400-Series standard interconnect

Locking features front and back, for secure transport

Supports PacStar 400-Series standard interconnect enabling modules to be 'snapped' together in the field and share power
PacStar 411 & 412 HAIPE Sleds
The PacStar 411 and PacStar 412 are designed to work in conjunction with the PacStar 400-Series communications modules serving the tactical communications needs of small teams that deploy worldwide and have secure communication requirements in austere environments. They enable teams from U.S. DoD, Homeland Security, as well as first responders and civilian organizations to easily and securely connect multiple devices to mission-critical communications networks.