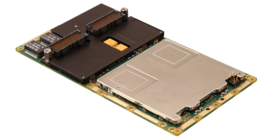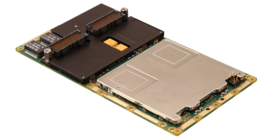 Designed for space-constrained size, weight and power (SWaP)-sensitive programs, the XMC-121 small form factor Intel Xeon x86 Single Board Computer (SBC) offers extremely powerful x86 processing with a low power and small sized footprint.
Key Features
Intel Kaby Lake Mobile Xeon E3-1505L v6 processor
Quad-core, hyper-threading @ 2.2 GHz
Up to 32 GB DDR4 with ECC 
Up to 32 GB SATA NAND flash 
Dual Gigabit Ethernet ports 
Serial RS-232, serial RS-422/485, dual USB, SATA and DIO ports for external connectivity 
Dual SPI and I2C signals for local expansion 
DVI/DisplayPort with integrated Intel HD P630 graphics 
Low power with configurable power settings 
Supports Linux and Microsoft Windows  
Applications
XMC mezzanine processor for rugged embedded applications 
Micro-server and virtualization capabilities 
Co-processor for high-density processing 
Ultra-small processor for SWaP-constrained applications 
XMC-121 Intel Kaby Lake Xeon XMC Mezzanine Processor
The XMC-121 incorporates Intel's 7th Gen Xeon technology using the Kaby Lake Mobile Xeon E3-1505L v6 processor. The processor provides quad-core, hyper-threading performance operating at 2.2 GHz with turbo operation to 3.0 GHz. With an integrated 8 MB L2 Intel Smart Cache and featuring Intel Virtualization and vPro Technologies, the E3-1505L processor provides 64-bit high-performance processing while consuming under 25 watts of power.
The processor is coupled to a dual-channel 64-bit DDR4 memory system with ECC, supporting up to 32 GB of high-speed system memory and provides up to 38.4 GBps memory performance. Up to 32 GB of SATA NAND flash memory is offered, providing a vast amount of non-volatile data storage for operating systems, applications code, and data storage.
The XMC-121 includes two Gigabit Ethernet (GbE) ports, supporting tri-speed 10/100/1000BASE-T and 1000BASE-X (SerDes) connectivity. For external connectivity, the XMC-121 provides one serial RS-232, one RS-232/422/485 port supporting up to 3.6 Mbps interface speeds, two USB 2.0 ports, one SATA 3.0 port and four discrete digital I/O signals. Carrier or base card expansion is supported by two SPI and one I2C interfaces.
For display applications, the XMC-121 processor includes an integrated Intel HD Graphics P630 engine and offers a DVI or DisplayPort digital port with up to 4K display resolution. The E3-1505 processor includes hardware codec acceleration for many popular media formats, including H.264 and HEVC (H.265).
Available as an air-cooled or conduction-cooled module, the XMC- 121 is supported by a wide range of popular operating systems, including Fedora and Red Hat Enterprise Linux and Microsoft Windows.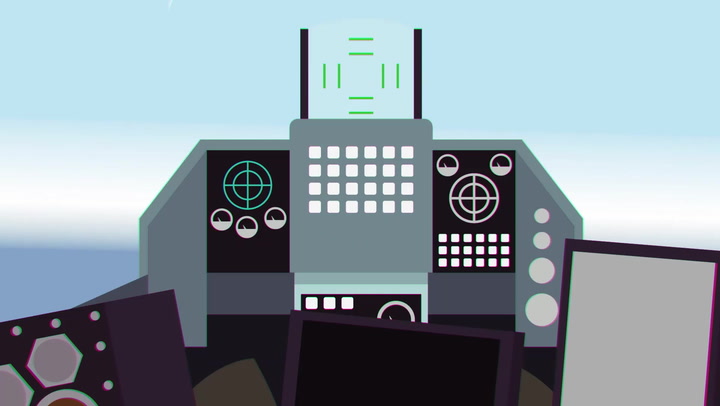 Processor Mezzanines Add Power Without Adding Slots
Today's continued push for smaller and faster is driving innovation. See how processor mezzanines can reduce your risk and time to market while saving you space, power, and money by adding processor density to your application without adding slots.