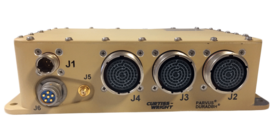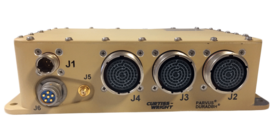 The DBH-672 Digital Beachhead is a rugged COTS Gigabit Ethernet switch & vetronics computer system capable of hosting optional VICTORY services software.
Key Features
Low-power multi-core Arm vetronics processor and network switch 
Support for optional integrated military GPS receiver 
SWaP optimized and qual-tested to meet extreme environment/EMI conditions
Filtered MIL-STD-1275D / 704F power supply
Rugged IP67 aluminum chassis with MIL-38999 connectors

Applications
Situational awareness upgrades at the network edge
Ethernet switch and shared services processor for ground vehicles
In-vehicle precision time-stamped GbE LAN switching
C4ISR technology refresh and vehicle modernization
HUMS for fleet logistics 
Low-power Arm embedded computing applications
Modular open architecture, LRU consolidation
DBH-672 Digital Beachhead Rugged Switch
Some DBH-672 variants not currently in active production. 16-port switch-only variant (DBH672-4S) still active with MoQ, or see 20-port DuraNET 20-10 which does not require MoQ. For APNT variants, see DBH-670.
The DBH-672 Digital Beachhead is a rugged, Commercial Off-the-Shelf (COTS) single-box solution integrating a Gigabit Ethernet (GbE) switch and low-power Arm vetronics processor in a MIL-STD qualified, small form-factor (SFF) chassis. The multi-function DBH-672 builds on Curtiss-Wright's market leadership in SFF system solutions, adding a lower size, weight, power and cost (SWaP-C) design to the Digital Beachhead family capable of consolidating network switch, vehicle processor, embedded GPS, solid-state storage, and add-in I/O interface all in a single Line Replaceable Unit (LRU). Featuring 16 ports of fully managed Layer 2 GbE switching and static Layer 3 routing together with a quad-core Arm i.MX6-Quad processor, the DBH-672 system supports general-purpose embedded computing and in-vehicle edge networking requirements.
Combining proven, high Technology Readiness Level (TRL) COTS sub-assemblies and open architecture technologies into a single multi-function solution, this next-generation Digital Beachhead delivers a powerful set of standard and optionally integrated capabilities. The unit's carrier-grade network management software provides a powerful feature set for multicast traffic, VLAN, port control, Quality of Service (QoS), Link Aggregation, SNMP management, secure authentication, redundancy, precision timing (IEEE-1588 PTPv2), and data zeroization. Its multi-core processor provides a robust set of vetronics I/O interfaces (USB, GbE, RS-422, RS-232, CANbus, DIO, HDMI, Audio) along with a modular I/O and storage architecture based Mini-PCIe cards and mSATA SSD Flash storage modules to support application-specific I/O requirements (i.e. MIL-STD-1553, ARINC429, COM, DIO modules). Application engineering services are available for modified COTS (MCOTS) configurations at minimal/no NRE cost, including pre-integration of Mini-PCIe I/O cards. Qual-tested to meet harsh MIL-STD-810G and MIL-STD-461F requirements, the unit boasts fanless operation over a wide operating temperature range (-40 to +71°C) and tolerance to extreme shock and vibration conditions, high altitude, and humidity, making it suitable for technology refresh and new platform deployments, including mobile, tactical, aerospace, and ground vehicle applications. It features front-panel MIL-DTL-38999 circular connectors in a sealed IP67 (dust- and waterproof) aluminum chassis together with industrial temperature grade components, EMI filtering, and isolated MIL-STD-1275/704 power supply that protects against vehicle and aircraft voltage surges, spikes and transients.