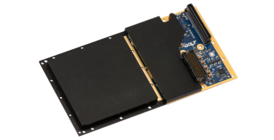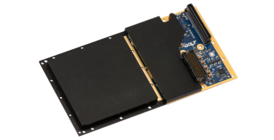 The XMC-4902 XMC GPGPU Processor card includes a high-performance NVIDIA Quadro Pascal GPU processor in a rugged, reliable SWaP-optimized form factor.
Key Features
NVIDIA GP107, 2.3 TFLOPS GPGPU Engine
Chip-down rugged design, MIL-STD-810
4 x independent DisplayPort 1.4 outputs
4 GB GDDR5 memory with NVIDIA GPUDirect DMA
Operating power default: 25W; configurable hard cap from 15 - 50W
Applications
ISR and EW applications where TFLOPS of accelerated processing is required 
Addressing the massive data ingest of modern Radar, SIGINT, EO/IR sensors 
Unparalleled HPEC performance in cross-cueing applications 
XMC-4902 GPGPU Processor with NVIDIA Quadro Pascal
The rugged XMC-4902 NVIDIA Quadro Pascal GP107 processor mezzanine module is designed and manufactured by Wolf Advanced Technology. The board is part of a family of GPGPU modules available from Curtiss-Wright Defense Solutions to enable the development of High-Performance Embedded Computing (HPEC) systems. The Quadro Pascal GP107 GPGPU can provide up to 2.3 TFLOPs of CUDA processing at a very modest operating power, providing a huge improvement to 46 GFLOPS/watt, making it an excellent choice for aerospace and defense applications. With its impressive processing power, the board excels at data processing which benefits from advanced parallel processing, such as video stabilization, image processing, terrain analysis, object tracking or 3D visualization of geospatial data.
The XMC-4902 board uses NVIDIA's advanced Quadro Pascal 14nm GPU technology. This rugged Pascal-based board includes four DisplayPort 1.4 outputs, which provide support for High Dynamic Range (HDR) video, and resolutions of 4K at 120Hz or 5K at 60Hz with 10-bit color depth.
The rugged XMC-4902 board includes air-cooled and conduction-cooled options.