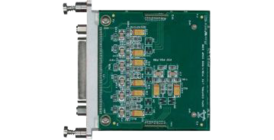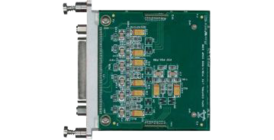 The KAD/EBM/104 monitors a dual redundant ARINC 664 Part 7 compatible interface with redundancy removal.
 
Features
Monitors a dual redundant ARINC-664P7 compatible interface with redundancy removal
Supports 512 virtual links
Coherently parsers 256 different flows for parametric ARINC-664P7
Coherently parsers 8192 different flows for ARINC 429 over ARINC-664P7
Two 100BaseTX Ethernet interfaces streaming non-redundant traffic to network recorders
Applications
Monitoring of messages transmitted over GE Aviation ARINC 664 Part 7 bus and streaming to networked recorder
KAD/EBM/104 ARINC 664 Part 7 Bus Monitor
The KAD/EBM/104 receives ARINC 664 Part 7 traffic on a dual redundant interface; redundant messages are removed before the stream is sent to a classifier which it then splits into two groups: parametric ARINC 664 Part 7 messages; and ARINC 429 over ARINC 664 Part 7. These are then parsed by type-specific parsers and made available across the Acra KAM-500 backplane. All parser slots are triple buffered; there are 256 parser slots for parametric ARINC 664 messages and 8192 slots for ARINC 429 messages.
The KAD/EBM/104 has two additional 100BASE-T ports that forward a mirror copy of all frames received after redundancy removal for transmission to packet recorders. Fragmentation of ARINC 664 Part 7 messages is not supported by the parser, but fragmented messages are forwarded by the relay output ports. It also supports redundancy removal and re-transmission for Ethernet fragmented frames.
Aerospace Instrumentation Brochure
Modern aerospace instrumentation systems can be highly complex, and it can be difficult to know how to meet program needs. It's not unusual for requirements to change during a campaign and cause significant delays, and data must be captured reliably no matter what – otherwise expensive additional flights will be needed or months of program data could be lost. Read our brochure to learn how you can reduce your risk with commercial off-the-shelf (COTS) solutions.
Learn More