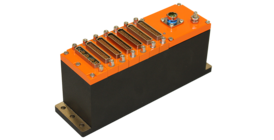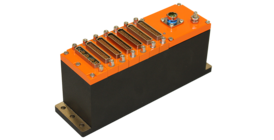 The AXN/CHS/06U is a compact six user-slot data acquisition chassis, which includes a housing and backplane.
Features
50W power supply unit and 6 user-slots
18 to 68 VDC isolated power supply
Rugged aluminum housing
Supports remote Axonite mounting of user-modules
LED power and status indicator
Applications
Flight Test Instrumentation
Flight Data Acquisition
Space Data Acquisition
AXN/CHS/06U Axon Chassis, 6 User-Slots
The AXN/CHS/06U is a 6 user-slot Axon chassis, which along with the housing and backplane, includes an isolated 50W power supply for the controller and user modules.
A wide input operating range, advanced protection with fault monitoring, and superior glitch immunity all contribute to robust operation with a variety of power sources.
Any user module can be placed in any user slot, in any combination. User modules may also be remotely located via the use of an Axonite housing.
Aerospace Instrumentation Brochure
Modern aerospace instrumentation systems can be highly complex, and it can be difficult to know how to meet program needs. It's not unusual for requirements to change during a campaign and cause significant delays, and data must be captured reliably no matter what – otherwise expensive additional flights will be needed or months of program data could be lost. Read our brochure to learn how you can reduce your risk with commercial off-the-shelf (COTS) solutions. 
Read the Brochure
Axon Data Acquisition Unit (DAU) Product Family Brochure
For airborne applications where reliability and size, weight, and power (SWaP) are critical, the Curtiss-Wright Axon family of data acquisition units (DAU) are ready to take flight. Designed leveraging our decades of experience as a trusted, proven leader, ADAUs are future-proof, SWaP-optimized, and available in a variety of flexible configurations to meet your exact program requirements.
Read the Brochure